Faculty
Communication Studies Faculty

Dr. David K. Scott
David K. Scott is a Professor of Communication and Media Studies. Dr. Scott received his doctoral degree in mass communication from the University of Oklahoma in 1994. He has published scholarly work in major peer reviewed journals including: Journal of Children and Media; Journalism & Mass Communication Quarterly; Southern Communication Journal; Communication Studies (2); Social Science Quarterly; and Communication Quarterly. He has received numerous awards for his research, teaching, and public service, including: Final five finalist for the "Rose B. Johnson" SCJ Article Award (2004); The Fred Tewell Outstanding College Communication Educator by the Oklahoma Speech Theatre Communication Association (2009); "Faculty of the Year" (Research) by Northeastern State University (1997); "Weiss Award" for Scholarly Achievement by the National Educational Debate Association (1998); Named as a charter NSU Centurion (2009) by the Northeastern State University Centennial Committee that recognized 100 faculty, staff or students who made an impact over the first 100 years (1909-2009) of NSU's history.
Dr. Hsin-I Sydney Yueh
Hsin-I Sydney Yueh is an Associate Professor specializing in intercultural communication, minority studies, and language and social interaction. Her book
Identity Politics and Popular Culture in Taiwan: A Sajiao Generation
received the Outstanding Book Award for the International and Intercultural Communication Division at the 2018 National Communication Association convention. Her other publications can be found in journals, such as
Critical Studies of Media Communication
and
Journal of International and Intercultural Communication
. Click her
CV
for more detailed information.
Dr. Sarah Turner McGowen
Contact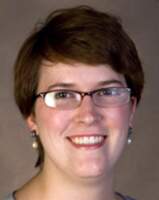 Sara Turner McGowen is an Assistant Professor of Communication Studies at Northeastern State University.Turner McGowen is ABD toward her doctoral degree in communication from the University of Missouri . Professor Turner McGowen has authored and presented scholarly research at various academic conferences including the Central States Communication Association. Her research interests include organizationaland political communication and she has published her academic work in the Journal of Radio & Audio Media and a chapter in the edited book Presidential Campaigning and Social Media.
Dr. Elaina M. Ross
Contact
Elaina M. Ross is an Assistant Professor of Communication Studies as well as the Director of the Communication Master's Program. Dr. Ross received her Doctoral degree from the University of Kansas and her MA in Communication Studies from Northeastern State University. She teaches courses for the communication studies program that include Public Speaking, Interviewing, Interpersonal Communication, Family Communication, Romantic Relationships, Research Design, and Theories of Communication. Her research focuses on the intersection of interpersonal and organizational communication. Her overarching research question works to understand how people can fulfill both personal and professional roles successfully.
Ms. Katie Thomas

Katie Thomas is an Instructor of Communication Studies and the Director of Forensics at NSU. Katie received her M.A. in Strategic Communication from Liberty University in the summer of 2018. Her focus throughout her graduate studies was on social media, specifically in the forensics community. Katie served as a volunteer consultant and coach for the Liberty University Forensics team from 2016-2019, focusing on Interpretive Events and Reader's Theatre. She coached two national winning Reader's Theatre teams. In the spring of 2018, Katie was awarded first place in Liberty University's Research Week in the Graduate Performance Category. Prior to graduate school, Katie worked as a professional actress and in administration for a large online graduate program. Katie's volunteer work includes serving as social media coordinator for several organizations, working with the American Red Cross Service to the Armed Forces, and serving as the Good Citizen Award Chairwoman for the Lynchburg Chapter Daughters of the American Revolution.