The Institute

The goal of the Institute is to provide faculty, academics, practitioners, professionals, community members, undergraduate students and graduate students the opportunity to expand their knowledge and understanding of the global community with emphasis on global security and comparative justice systems. It is clear knowledge and understanding of global security issues and international justice systems is especially important to our students and communities. The opportunity to gain a view of the international community is especially important for our students who are first generation college and graduate students.
Upcoming Events
The Institute is planning another Webinar series for the Spring of 2021.
The Institute is exploring other exciting and interesting projects for 2021.
Previous Events
During the fall of 2020, the Institute presented its highly successful six-part webinar series on the
2020 Pandemic in Northeast Oklahoma: A six-month retrospective
Series Producers
Ray Hasselman, J.D., Ph.D., Associate Professor, Department of Criminology, Justice Studies, and Global Security and Coordinator of the Institute for Global Security and Comparative Justice Studies
James Hall, J.D., Assistant Professor, Department of Criminology, Justice Studies, and Global Security and Coordinator of the Global Security Program
Dr. Rebekah Doyle, Ph.D., Assistant Professor, Department of Criminology, Justice Studies, and Global Security and Coordinator
Special Assistance
Eloy Chavez, Ph.D., Dean, College of Extended Learning
John Clark, Ph.D. Chair, Department of Criminology, Justice Studies and Global Security
Katelyn Cline, Recruiter/Advisor, College of Extended Learning
Rhanda Walker, Administrative Assistant, Department of Criminology, Justice Studies, and Global Security
Robyn Pursley, Ph.D., Assistant Dean, Associate Professor, Liberal Arts College
Special Thanks
Mike Chanslor, Dean, Liberal Arts College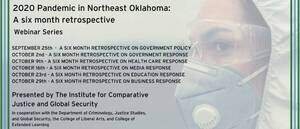 2020 Pandemic in Northeast Oklahoma: A six-month retrospective on government policy – September 25, 2020

Produced by Ray Hasselman
Moderator Rebekah Doyle
Moderator Question and Answers James Hall
Panelists

Principal Chief Chuck Hoskins, Jr., Cherokee Nation
Deputy Mayor Amy Brown, City of Tulsa
Commissioner Karen Keith, Tulsa County Board of Commissioners
Mayor Sue Catron, City of Tahlequah

View Webinar Recording Here

2020 Pandemic in Northeast Oklahoma: A six-month retrospective on government response – October 2, 2020

Produced by James Hall
Moderator James Hall
Moderator Question and Answers Ray Hasselman
Panelists

Mike Carter, Police Chief, City of Sand Springs
Scott Walton, Sheriff, Rogers County
John Graham, Chief of Staff, EMSA

View Webinar Recording Here

2020 Pandemic in Northeast Oklahoma: A six-month retrospective on health care response – October 9, 2020

Produced by Rebekah Doyle
Moderator Rebekah Doyle
Moderator Question and Answers Ray Hasselman
Panelists

Bruce Dart, Executive Director, Tulsa City-County Health Department
Steven Lahr, Medical Director, Family and Children Services
James Thompson, M.S., CSSB, District 4 Health Planning Coordinator (Craig, Delaware, Mayes, Nowata, Ottawa, Ottawa, Rogers, Wagoner, and Washington Counties
Brian Hall, Deputy Executive Director of Cherokee Services

View Webinar Recording Here

2020 Pandemic in Northeast Oklahoma: A six-month retrospective on Media Response – October 16, 2020

Produced by Ray Hasselman
Moderator Ray Hasselman
Moderator Question and Answers Rebekah Doyle
Panelists

Lori Fullbright, KOTV News
Russell Mills, KRMG News
Corey Jones, Tulsa World

View Webinar Recording Here

2020 Pandemic in Northeast Oklahoma: A six-month retrospective on education response – October 23, 2020

Produced by James Hall
Moderator James Hall
Moderator Question and Answers Ray Hasselman
Panelists

Superintendent Randy Harris, Wagoner Public Schools
Superintendent Pat Dobson, Grove Public Schools
Superintendent Sherry Durkee, Sand Springs Public Schools
Deborah Landry, Provost/Vice President of Academic Affairs Northeastern State University

View Webinar Recording Here

2020 Pandemic in Northeast Oklahoma: A six-month retrospective on business response – October 29, 2020

Produced by Rebekah Doyle
Moderator Rebekah Doyle
Moderator Questions and Answers Ray Hasselman
Panelists

Gary Weddell, Senior Vice President of Casino and Retail Operations of Cherokee Nation Entertainment
Justin Tucker, Director, Evans, and Miller Funeral Home
Wallace Berryman, Executive Store Manager, Walgreens

View Webinar Recording Here

Thursday, December 3, 2020

2020 OBA Criminal Law Section Annual Forensics Seminar

The Forensic Academy is produced and presented by the Criminal Law Section of the Oklahoma Bar Association

The Institute for Comparative Justice and Global Security, the Department of Criminology, Justice Studies, and Global Security, the College of Liberal Arts, and the College of Extended Learning are hosting the Forensic Academy on this platform at Northeastern State University.

9:00 – 10:30 SCOTUS Ruling on McGirt –
Where are we and Where do we Go From Here?
Jennifer Crabb, Assistant Attorney General
Criminal Appeals Unit, Office of the Attorney General
Sarah McAmis, Assistant U.S. Attorney
U.S. Attorney's Office, Eastern District of Oklahoma
Courtney Jordan, Assistant U.S. Attorney
U.S. Attorney's Office, Eastern District of Oklahoma

10:30 – 10:45 Break

10:45 – 12:00 Victim Services Coordination Across State, Tribal and Federal Systems
Mary Jo Speaker, Victim Witness Specialist
U.S. Attorney's Office, Eastern District of Oklahoma
Karen Cunningham, Victim Services Coordinator
Office of the Attorney General

12:15 – 12:45 Award Presentations

1:00 – 2:45 Tribal Criminal Jurisdiction – Panel of Tribal Representatives
Cherokee Nation
Choctaw Nation
Muscogee Creek Nation TBD

2:45 – 3:00 Questions and Wrap Up