Music Ensembles
Ensembles
All Northeastern State University ensembles are open to both music majors and non-majors. Any NSU student is eligible to audition for any of the following ensembles:
Bands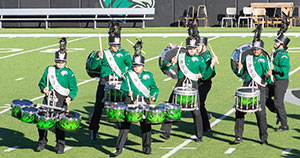 Dr. Joseph Bello Interim Director of Bands
Visit the NSU Bands website.
Jazz & Commercial Music Ensembles

Dr. Clark Gibson, Director of Jazz Studies & Commercial Music
Jazz Combos (several each semester)
Visit the NSU Jazz Studies & Commercial Music website.
Vocal/Choral Groups

Dr. Jeffery Wall, Director of Choral Activities
Dr. Whitney Myers, Director of Opera Music Theatre
Visit the NSU Vocal/Choral Music website.
Chamber Music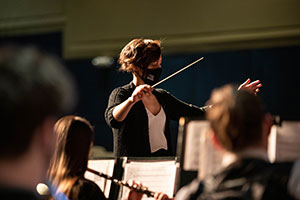 Dr. Anne Watson, Chamber Music Coordinator
One of the most important components of an education in music is experience in chamber ensembles. NSU's chamber music program includes:
Clarinet choir
Brass quintets
Trumpet ensembles
Baroque trumpet ensemble
Woodwind ensembles
Numerous duos, trios, and quartets
For more information, contact Dr. Watson.