Auditions
Admission and Scholarship Auditions
Students who wish to major in music must pass an entrance audition to be admitted to the NSU Department of Music. Scholarship auditions are open to all students regardless of their major. Audition days are scheduled in the spring semester and give students the opportunity to meet all music faculty as well as interact with current NSU Music students. To reserve a place at an audition day or schedule a private audition, fill out the Audition Registration Form or contact Dr. Jeffery Wall.
All students who audition should complete the NSU Admissions Application, which can be obtained by calling 918-444-4675 or visiting NSU Home Page. In addition to the university application, students should also fill out the Scholarship Application, located on the Office of Scholarships website. Please note that students do not have to have completed the application process to audition for the department.
For music majors, the audition will consist of prepared pieces, pitch retention, sight reading, and placement exams in Music Theory and Aural Skills. These exams are for advisement only and will not affect your admission to the program or your scholarship offer. For non-music major scholarship auditions, the audition will only require performance of prepared pieces.
Whether you are auditioning for admission to the music program or for a choral/vocal scholarship, you should pick audition repertoire that shows off your best vocal ability. Many students choose all-district or all-state solo selections as repertoire. If you need help finding something to sing, please contact Dr. Christian Bester.
Music Auditions for admission and scholarships for the upcoming academic year are published in the Audition Registration Form.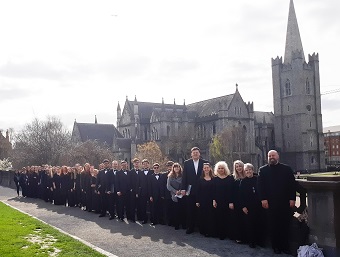 University/Community Chorus in Ireland at St. Patrick's Cathedral.