Careers in Political Science
Career Preparation
Careers in Political Science
Students who graduate with a degree in political science can pursue a variety of career paths. There are opportunities for government service at the federal, state, local and tribal levels. Political science is an excellent major for those interested in law school because of courses in constitutional law and political theory. The political science curriculum also includes courses in public administration, national institutions, and international politics, which can prepare students for public service on the national or international levels. There are also a wide variety of employment opportunities for political science graduates in the private sector. Interest groups and business organizations frequently employ political scientists in lobbying and governmental relations; political science graduates have also applied their skills in areas such as public relations, marketing, advertising, personnel, banking and finance.
The American Political Science Association provides more information about careers in political science and public administration.
Graduate and Professional Schools
For many students, the political science major provides the foundation for a career that will involve further study at the graduate level. Thus, many political science graduates have gone on to do graduate work in political science or public administration. Law school is also an option that is pursued by political science graduates. The Political Science program at NSU offers a variety of courses to prepare students for graduate school.
The Political Science faculty will be glad to discuss the opportunities that are provided by graduate education and to assist students in selecting an appropriate graduate or professional school.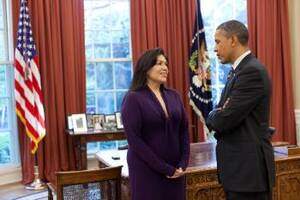 NSU Political Science graduate Kimberly Teehee with President Obama in the Oval Office while serving as his Senior Policy Adviser on Native American Affairs.
Examples of Careers for Political Scientists
Administration, Corporate, Government, Non-Profit, etc.
Corporation Legislative Issues Manager
Lobbyist
Archivist, Online Political Data
Customs Officer
Management Analyst
Budget Examiner or Analyst
Editor, Online Political Journal
Mediator
Attorney
Entrepreneur
Plans and Review Officer, USIA
Banking Analyst or Executive
Federal Government Analyst
Policy Analyst
Campaign Operative
Financial Consultant
Political Commentator
Career Counselor
Foreign Service Officer
Pollster
CIA Analyst or Agent
Foundation President
Public Affairs Research Analyst
City Planner
Free-lance writer
Public Opinion Analyst
City Housing Administrator
High School Government Teacher
Publisher
Congressional Office/Committee Staffer
Immigration Officer
Research Analyst
Coordinator of Federal or State Aid
Information Manager
State Legislator
Communications Director
Intelligence Officer
Survey Analyst
Corporate Analyst
International Agency Officer
Systems Analyst
Corporate Public Affairs Adviser
International Research Specialist
Teacher
Corporate Economist
Issues Analyst, Corporate Social Policy Div.
University Administrator
Corporate Manager
Journalist
University Professor
Corporate Information Analyst
Juvenile Justice Specialist
Urban Policy Planner
Corporate Adviser for Governmental Relations
Labor Relations Specialist
Web Content Editor

NSU Political Science graduate Denver Herren is now a Foreign Service Officer stationed in the Bahamas. Here he is welcoming Secretary of State Clinton to the Cook Islands, where he was stationed at the time.