Bachelor of Science in Criminal Justice
Criminal Justice
Degree Available at
Tahlequah
Broken Arrow
Online
Transferring to NSU?
Make your transition to NSU as smooth and seamless as possible.
Visit Transfer Student Services for more information.
Career Services
What can I do with a major in Criminal Justice?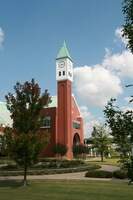 Program Mission Statement
The American Criminal Justice System is composed of police, courts, corrections, and juvenile justice at the local, state, tribal and federal levels. These components function separately and together, with the majority of activities occurring at the local level. The criminal justice program seeks to prepare our graduates for careers in all sectors of the justice system with an emphasis on leadership, ethics, analytical skills and effective written and verbal communication.
For more information about degree requirements, visit the NSU catalog.
The objectives of the Criminal Justice Program are:
To develop an understanding of the origin, organization and function of American law.
To develop an understanding of the relationship between the US Constitution and the Criminal Justice System.
To impart knowledge of criminal law and procedure.
To impart knowledge of crime and correctional theory.
To perfect the ability to conduct research in the major components of the Criminal Justice System and describe the findings.
To perfect critical analysis and writing skills.
To impart knowledge of the principles of ethics and social and cultural diversity.
What can you do with this degree?
Our graduates find employment in:
Local, state, tribal and federal law enforcement agencies.
Local, state, tribal and federal administrative agencies.
District attorney and public defender offices.
Court houses
The Department of Corrections
Higher education
This list is not exhaustive. Many of our graduates pursue higher degrees in law, criminal justice, or public administration to name a few.
For more information, please email Dr. John W. Clark at clarkiii@nsuok.edu.