Bachelor of Science in Homeland Security
Degree Available at
Transferring to NSU?
Make your transition to NSU as smooth and seamless as possible.
Visit Transfer Student Services for more information.
Career Services
Program
Mission Statement
: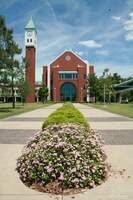 NSU's Homeland Security and Emergency Management Program program is built on the existing body of knowledge in homeland security and emergency management as well as current and developing research, with an emphasis on lessening the impacts of disasters on our most vulnerable citizens. The program prepares students for public and private sector positions in this growing field.
Our program uses an interdisciplinary approach, preparing students with the knowledge, skills, and abilities to leverage and coordinate the full range of capacity and resources to improve outcomes in a disaster whether natural or human-caused. The program offers students knowledge specific to different types and causes of disaster, lessons from past disasters, and both comprehensive and hazard-specific practices that lead to effective prevention, mitigation, preparedness, response and recovery.
The Homeland Security program is the only bachelor's degree program in homeland security and/or emergency management in the state of Oklahoma.
For more information about degree requirements, visit the NSU catalog.
NSU's Homeland Security Degree Program
Objectives & Employment Opportunities
The Objectives of Homeland Security Are:
Understand and discuss the origin, organization and function of American law
Demonstrate and understanding of and the ability to describe the relationship between the US Constitution and Homeland Security Efforts
Demonstrate the ability to think, read and write critically
Demonstrate effective oral and written communication skills
Demonstrate an understanding of and the ability to research, analyze and assimilate intelligence information to prepare risk assessments and responses to developing threats
Demonstrate and understanding of and the ability to review public or private organizations fiscal, work force, legal and political information to assess the organizational needs, requirements, and resources
Demonstrate an understanding of and the ability to describe the various theories and causes of terrorism
Demonstrate the ability to describe the recent research in the major components of homeland security and emergency management and planning
What can you do with this degree? Our graduates find employment in:
State and Federal Emergency Management
Hazard and Risk Assessment
Loss Prevention
Private Industry Emergency Preparedness
Federal Law Enforcement
For more information, please email Dr. James Hall at halljb@nsuok.edu