Bachelor's in Early Childhood Education
Overview
Do you want to make a difference in the lives of children during their most formative years? Do you want to help children learn and grow, but also grow yourself? Then Early Childhood Education might be the bachelor's degree for you!
Students earning an Early Childhood Education degree learn effective strategies to teach students in PK-3rd grades.
The Early Childhood Education major prepares students to teach in diverse and inclusive environments, including homes, schools and other community settings which serve children from birth to age eight and their families. Graduates will know how to design, implement and evaluate curriculum in a variety of settings that promote positive learning outcomes for each child.
NSU's Early Childhood degree is ranked one of the best programs in the nation. NSU is Oklahoma's fourth largest public four-year institution. Ranked in the top three for most affordable university tuition, NSU is a cost-effective way to earn a college degree.
Explore the program below!
Click below to jump to section on page:
PROGRAM CHAIR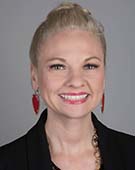 Dr. Kimberly Phillips
philliki@nsuok.edu
918-444-3753
Student Learning Outcomes
Identify multiple interacting influences on children's development and learning
Use content knowledge to design and implement meaningful and challenging curriculum that promotes development and learning for each child.
Use developmentally appropriate assessment strategies in ways that promote positive outcomes for each child.
Use a wide array of instructional strategies and tools that connect children and families and positively influence each child's development and learning.
Conduct themselves as members of the early childhood profession.
Use ethical guidelines and other professional standards related to early childhood practice.
Implement strategies that foster dispositions that lead to life-long learning.
Degree Overview
Core classes
ECED 4153 - Early Childhood Literacy
ECED 4213 - Cognitive Development of Young Children & the Integrated Curriculum
ECED 4313 - Development of Early Childhood Programs
ECED 4563 - Classroom Management for Early Childhood
ECED 4813 - Birth to Two Development
LIBM 4023 - Materials for Children
P ED 4232 - Motor Skill Development of the Young Child
READ 4013 - Content Literacy K-8
READ 4023 - Reading and Language Development of the Young Child
READ 4063 - Introduction to Reading and Writing Assessment
3 hours of Education elective
SPED 4433 - Introduction to Education of Children with Exceptionalities
EDUC 4823 - Technology & the 21st Century
Clinical Experience/Internships
Pre-Internship I - requires 2.75 GPA/45 completed credit hours, 8 full days of observation/field experience
EDUC 3313 - Clinical Teaching/Pre-Internship I
EDUC 3113 - Educational Psychology
Pre-Internship II - requires 2.5 GPA and 10 full days of observation
ECED 4513 - Organization & Implementation of Early Childhood Programs
EDUC 4032 - Pre-Internship II
Full Internship - requires 2.5 GPA and full-time semester of student teaching
EDUC 4054 - Elementary Intern Teaching
EDUC 4074 - Secondary Intern Teaching
EDUC 4172 - Assessment and Evaluation
EDUC 4252 - Seminar
See course catalog for full degree plan
Click here for sample semester plan
Licensure Programs
Northeastern State University offers initial teacher licensure programs at the traditional undergraduate level for graduates wishing to teach in Oklahoma. We also offer advanced licensure programs and programs for other school professionals at the graduate level. We do not guarantee to meet the licensure requirements of other states. You will be responsible for verifying that your program of study meets your desired state's licensure requirements.
Professional Licensure Disclosure
Programs at Northeastern State University that prepare students for initial licensure as educators are designed to meet the licensure standards set by the Oklahoma State Department of Education. Students seeking licensure in another state are advised to contact the appropriate licensing board in that state to determine specific requirements of guidelines for reciprocity. Northeastern State University cannot confirm whether a particular licensure program meets requirements for licensure outside of the State of Oklahoma. For a list of the state departments of education that oversee professional teaching licensure, see the U.S. Department of Education website - State Contacts page. Click here for NSU's state-specific matrix.
For questions related to licensure, please contact Lois Buttress (buttress@nsuok.edu).