Drama Program
Get Involved with NSU Drama!!!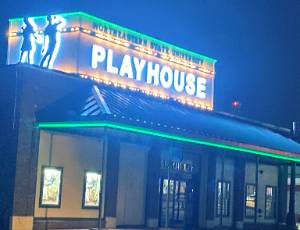 NSU Drama is located in the NSU Playhouse at 300 N. Muskogee Avenue in Tahlequah .
Contact Us
Phone: 918-444-4500
E-mail: drama@nsuok.edu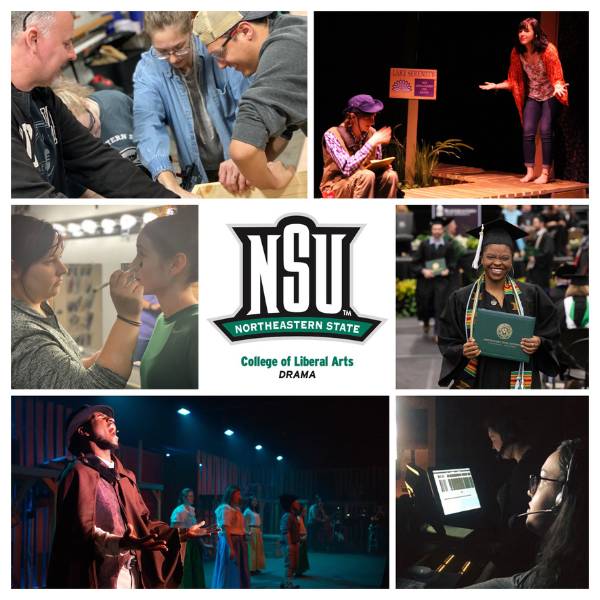 AUDITION FOR SHOWS!
TAKE CLASSES!
VOLUNTEER BACKSTAGE!
NSU Drama is the hub of theatrical activity on the Tahlequah campus. The program offers theatrical performances and a variety of courses in performance, theory, technical theatre, and film, in addition to providing theatrical resources and support for activities such as the Miss Northeastern State University pageant and the Sequoyah Institute's Performing Arts series. NSU Drama also provides professional performing and technical theatre opportunities with the River City Players Branson-style summer music productions and presents screenings of National Theatre Live professional productions throughout the year.
Mission Statement:
The drama program embodies the mission, vision, and values of Northeastern State University, with particular focus on collaboration, creativity and leadership. Through intense study of human interaction and practical experience in the realization of all aspects of collaborative production, students graduating from the program are theatre generalists well prepared to engage in a global society. The following are educational goals and objectives of the program:
To provide a quality drama degree program that prepares the major for entry to the professional world or graduate study at a top level university;
To provide a generalist degree program that emphasizes study of the entire theatre discipline;
To produce educated, culturally sensitive graduates with strong liberal arts experiences who can become valuable citizens in their community of choice;
To produce regularly scheduled theatrical performances that provide learning experiences for drama majors and minors as well as cultural experiences for the campus at large and the Tahlequah community;
To serve as a resource center for theatre in northeast Oklahoma;
To serve as a hub for all NSU performing arts programming.
SCHOLARSHIP AUDITIONS FOR FALL 2023
We will be holding scholarship auditions on Friday April 21st at our Prospective Student Day on the NSU Tahlequah Campus!
Join us to get a glimpse of what it might be like to be a student in the NSU Drama program. We will begin the day with a quick meet and greet and a tour of the NSU playhouse and then see your scholarship audition. Then we will have lunch with current drama students so you have a chance to chat and ask them questions! After lunch you will join Dr. Pursley and her Directing class for a session discussing what it is like to be a drama student at NSU!
You will also have an opportunity to take care of any other campus business while you are here (housing, financial aid, etc.).
If you are interested in joining us for this day of fun, please register HERE! or email Dr. Pursley at mageern@nsuok.edu.