Bachelor of Science Education in Health and Physical Education
Do you want to help K-12 students not only be physically active, but build confidence, learn different movement skills, and help them to work as a team? Do you want to coach? Do you want to help others live longer, healthy lives? This program is for you!

Our Bachelor of Science Education in Health & Physical Education is offered by the Department of Health & Kinesiology in the NSU College of Education.
NSU is Oklahoma's fourth largest public four-year institution. Ranked in the top three for most affordable university tuition, NSU is a cost-effective way to earn a college degree.

Department Chair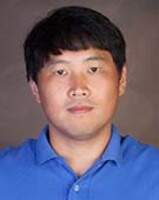 Program Chair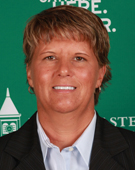 Student Learning Outcomes
Know and apply discipline specific scientific and theoretical concepts critical to the development of physically educated individuals.
Are physically educated individuals with the knowledge and skills necessary to demonstrate competent movement performance and health enhancing fitness as delineated in the National Association for Sport and Physical Education K-12 standards.
Plan and implement developmentally appropriate learning experiences aligned with local, state, and national standards to address the diverse needs of all students.
Use effective communication and pedagogical skills and strategies to enhance student engagement and learning.
Utilize assessment and reflection to foster student learning and inform instructional decisions.
Demonstrate dispositions essential to becoming effective professionals.
Degree Information
Major Requirements
H ED 2254 - Human Anatomy and Physiology
H ED 4323 - School Health Education and Promotion
H ED 4333 - Physiology of Exercise
H ED 4353 - Community Health
H ED 4363 - Kinesiology
H ED 4383 - Care and Prevention of Athletic Injuries
P ED 2202 - Foundation of Physical Education
P ED 2212 - Techniques of Teaching Individual Sports
P ED 2222 - Techniques of Teaching Team Sports
P ED 2232 - Outdoor Recreational Activities
P ED 2252 - Techniques of Teaching Lifetime Fitness
P ED 4223 - Measurement and Evaluation of Health and Physical Education
P ED 4232 - Motor Skill Development of the Young Child
P ED 4313 - Organization and Administration of PE and Recreation Programs
P ED 4452 - Curriculum Development in Physical Education
P ED 4513 - Elementary School Programs in Physical Education
P ED 4612 - Secondary Physical Education
P ED 4662 - Teaching Adapted Physical Education
SPED 4433 - Introduction to Education of Children with Exceptionalities
EDUC 4823 - Emerging Technologies
Clinical Experience/Internships
Pre-Internship I - requires 2.75 GPA/45 completed credit hours, 8 full days of observation/field experience
EDUC 3313 - Clinical Teaching/Pre-Internship I
EDUC 3113 - Educational Psychology
Pre-Internship II - requires 2.5 GPA and 10 full days of observation
EDUC 4353 - Secondary Teaching Methods and Practices
EDUC 4032 - Pre-Internship II
Full Internship - requires 2.5 GPA and full-time semester of student teaching
EDUC 4054 - Elementary Intern Teaching
EDUC 4074 - Secondary Intern Teaching
EDUC 4172 - Assessment and Evaluation
EDUC 4252 - Seminar
See course catalog for full degree plan
ACCELERATED BACHELOR'S TO MASTER'S
The Accelerated Bachelor's to Master's degree pathway (ADP) allows high performing undergraduate students an opportunity to complete the requirements for both the Bachelor's in Health & Physical Education and Master's degree in Health and Sport Science at an accelerated pace.
Undergraduate students accepted for the ADP may apply up to 8 graduate (5000 level) credit hours towards the completion of both the bachelor's and master's degree requirements.
ADP Eligibility
Completed Accelerated Degree Program application.
Minimum of 72 overall credit hours completed and a minimum of 12 hours completed in the Health and Physical Education major.
Transfer students must have completed a 12 semester hours at NSU.
A minimum 3.0 cumulative undergraduate GPA, and a minimum 3.25 major GPA.
Complete a Graduate College Admission application. Students will be admitted provisionally. Upon successful completion of the undergraduate degree, students will be eligible for full admission to the graduate college.
IMPORTANT:
Students admitted to the Accelerated B.S.Ed. Health and Physical Education to M.S. Health and Sport Science: Health Education degree program will complete up to 9 hours of graduate level credit to apply toward both the undergraduate and graduate degrees.
Students may not receive credit toward both the undergraduate and the paired graduate-level course. A student completing an undergraduate course and the paired graduate-level course will only receive credit for one course toward the bachelor's degree.
Prior to completing the undergraduate degree, if the undergraduate GPA, graduate GPA and/or overall GPA fall below a 3.00, the student becomes ineligible to continue in the ADP.
Students may withdraw from an approved accelerated degree pathway. Graduate credit hours completed prior to the student withdrawing or becoming ineligible to continue in the ADP apply toward the undergraduate degree only.
| | |
| --- | --- |
| B.S.Ed. Health and Physical Education | M.S. Health and Sport Science: Health Education Option |
| H ED 4323 School Health Education and Promotion | H ED 5183 Methods and Strategies in Health Education |
| H ED 4353 Community Health | H ED 5013 Foundations of Health Education and Promotion |
| P ED 4223 Measurement and Evaluation of Health and Physical Education | H ED 5553 Research Methods in Health Education and Sport |
Teacher Licensure Programs
Northeastern State University offers initial teacher licensure programs at the traditional undergraduate level for graduates wishing to teach in Oklahoma. We also offer advanced licensure programs and programs for other school professionals at the graduate level. We do not guarantee to meet the licensure requirements of other states. You will be responsible for verifying that your program of study meets your desired state's licensure requirements.
Professional Licensure Disclosure
Programs at Northeastern State University that prepare students for initial licensure as educators are designed to meet the licensure standards set by the Oklahoma State Department of Education. Students seeking licensure in another state are advised to contact the appropriate licensing board in that state to determine specific requirements of guidelines for reciprocity. Northeastern State University cannot confirm whether a particular licensure program meets requirements for licensure outside of the State of Oklahoma. For a list of the state departments of education that oversee professional teaching licensure, see the U.S. Department of Education website - State Contacts page. Click here for NSU's state-specific matrix.
For questions related to licensure, please contact Lois Buttress (buttress@nsuok.edu).