Bachelor of Art Education in Social Studies Education
Degree available at
Transferring to NSU?
Make your transition to NSU as smooth and seamless as possible.
Visit Transfer Student Services for more information.
Career Services
What can I do with a major in Social Studies Education?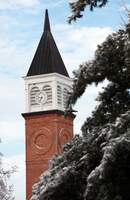 The primary purpose of the Social Studies Education degree is to prepare secondary (grades 7-12) social studies teachers for the public schools. The degree is designed to prepare students to pass two of the Oklahoma Teacher Certification Tests (OSAT fields 17 and 18), that are requirements for certification to teach social studies in Oklahoma. Successfully completing the degree and passing these two tests will allow a person to be certified to teach American history, Oklahoma history, government, and economics (field 17) and world history and geography (field 18). While the degree is specifically aimed at enabling students to meet Oklahoma standards, the requirements for the degree are similar enough to standards of other states that obtaining certification elsewhere is not a major problem. It is commonly required by many states for social studies teachers to have passed a course or exam in the history of the state where certification is sought.
Additional details about the Social Studies Education program:
For more information about degree requirements, visit the NSU catalog.
Professional Licensure Disclosure
Programs at Northeastern State University that prepare students for initial licensure as educators are designed to meet the licensure standards set by the Oklahoma State Department of Education. Students seeking licensure in another state are advised to contact the appropriate licensing board in that state to determine specific requirements of guidelines for reciprocity. Northeastern State University cannot confirm whether a particular licensure program meets requirements for licensure outside of the State of Oklahoma. For a list of the state departments of education that oversee professional teaching licensure, see the U.S. Department of Education website - State Contacts page
For questions related to licensure, please contact Lois Buttress (buttress@nsuok.edu).
For more information about the Social Studies Education program please e-mail or call:
David Corcoran
Coordinator of Social Studies Education
Department of History, HHA 235
Northeastern State University
Tahlequah, OK 74464
Telephone: 918-444-3503
Email: corcorad@nsuok.edu