Department of Natural Sciences Home Page
The Department of Natural Sciences awards undergraduate degrees in biology with cell and molecular biology, organismic, or fish and wildlife (Tahlequah Campus only); in chemistry with three options (professional, environmental science and biochemistry); and in science education with three areas of emphasis (biology, chemistry or earth space science). The department also offers a Master of Science in Natural Sciences and a Master of Education in Science Education. We have a pre-professional health program to prepare students seeking degrees in health-related fields.
There are approximately 40 departmental faculty members, including full-time and adjuncts. These faculty members are well-qualified and most have doctorates in their respective fields. We provide courses on the Tahlequah, Broken Arrow, and Muskogee campuses. Departmental faculty members are truly dedicated in providing the very best educational experience for our students.
A new 62,000-square-foot Science Laboratory facility, just east of and connected to the original Science Building, opened for lab classes beginning in fall 2006. This new building, on the Tahlequah campus, includes 26 teaching and research labs and can accommodate 400 students per lab session. The renovation of the original 57,000-square-foot Science Building was completed in Fall 2007 and includes primarily classrooms and offices. Also, in January 2007, a new 53,000-square-foot Science Building opened on our Broken Arrow campus. The building houses science faculty offices, 19 research labs, and 13 teaching labs.
Research is a major part of the departmental program. Most biology majors and all chemistry majors are involved in undergraduate research with faculty mentors. Department faculty and their students publish journal articles and make presentations at professional scientific meetings. Department faculty members have research grants from various funding agencies, including the National Institutes of Health and the National Science Foundation. There are many opportunities for students who may be interested in doing scientific research.
Contact Us
Department of Natural Sciences
Science Building
610 N. Grand Ave.
Tahlequah OK 74464
Phone: 918-444-3850
Fax: 918-458-9693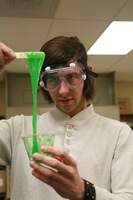 Research Day