Bachelor of Social Work Admission Requirements
Admission Requirements
A total of 124 hours is required to graduate from NSU. Any student transferring to NSU from a two-year school must complete a minimum of 60 hours at NSU or other 4-year school to graduate. The Social Work major consists of 54 hours.
If you have an AA degree or an AS degree (not an applied degree AAA or AAS ) from an Oklahoma school, you automatically meet all general education requirements.
Pre-requisites for the Social Work major include:
Intro to Psychology, Intro to Sociology, General Biological Science, Case Management, College Algebra or Math Structures, Social Statistics, and Intro to Social Work (minimum grade of C is required in Intro to Social Work)
Transfer courses from TCC also include:
HS 1113 transfers in as SOWK 2013 Intro to Social Work and
HS 2023 transfers in as SOWK3873 HBSE I
Students with the AA degree in Human Services must still complete 60 hours at NSU for graduation purposes.
You must first apply to NSU and have your transcripts forwarded to be admitted to the University. Once you are admitted, you will be referred to the Social Work Program for advisement (BA campus, Building G, room 258). You will meet with a faculty member for enrollment advisement, and it is preferable to call ahead to ensure that faculty are available at the time you will visit campus. Once you are advised, you can enroll for the semester. Your degree plan will then be completed by the Social Work Office and you will be assigned an academic advisor at that time.
If you need additional information, please contact:
Tahlequah Campus: Susan Burdine, Secretary 918-444-3511
Broken Arrow Campus: Amy Lillibridge, Secretary 918-449-6528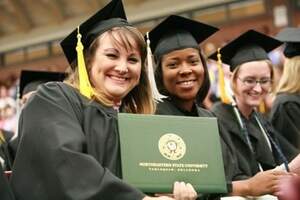 ACCREDITATION
Northeastern State University Master of Social Work and Bachelor of Social Work are both accredited by the Council on Social Work Education.