IDEA Summer Youth Academies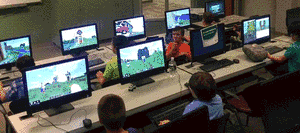 Summer Academy. The RACE program has changed its name to IDEA (Innovation Discovery Education Academy but everything else remains the same. We are happy to offer our quality Summer Youth Programs again, as well as a new Youth Leadership Academy. Please select the campus you wish to attend and select the program that is right for your child.
NSU has not changed its procedures so we will follow NSU and CDC guidelines. They should bring masks and depending on the guidelines and procedures when we begin, we will implement. Regardless of guidelines and procedures, if the parents or guardians wish for their child to wear a mask the whole time, we will enforce their wishes.
* The risk waiver must be filled out before your child can attend an Academy.
Barbara Fuller
Director, RACE
Executive Director, NSU Summer Youth Academies