Summer Programs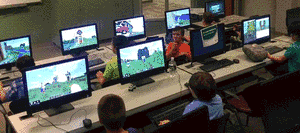 We are happy to offer our quality Summer Youth Programs again. This year our Summer Academies will take place at our Tahlequah and Broken Arrow campuses.
NSU has not changed its procedures so we will follow NSU and CDC guidelines. They should bring masks and depending on the guidelines and procedures when we begin, we will implement. Regardless of guidelines and procedures, if the parents or guardians wish for their child to wear a mask the whole time, we will enforce their wishes.
* The risk waiver must be filled out before your child can attend an Academy.
See My Ability
Children and adults with disabilities ranging in age from 12-25 in the Tulsa Metro area will benefit from a four-day visual arts summer camp at no cost.
Date: June 27-30, 2022