Bachelor of Science in Health and Human Performance
Overview
Do you care about health and wellness? Do you want to make a difference in the lives of others? A degree in human performance is the path for you!
NSU's Bachelor of Science in Health & Human Performance is offered by the Department of Health & Kinesiology.
We offer two concentrations to choose from: Clinical/Wellness and Recreation/Fitness.
Upon completion of the program, you will be well prepared for occupations within the health and wellness industry.
Health/Fitness Specialist
Cardiac Rehabilitation
Community Health
Pre-Professional Preparation for many Allied Health-Related Programs (such as Physical Therapy, Occupations Therapy, Exercise Science, Chiropractic Medicine, or many other post graduate professional programs)
And many more!
NSU is Oklahoma's fourth largest public four-year institution. Ranked in the top three for most affordable university tuition, NSU is a cost-effective way to earn a college degree.
Department Chair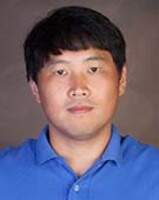 Program Chair
Student Learning Outcomes
Demonstrate proficiency in health and fitness assessment.
Apply fundamental human movement principles in the areas of anatomy, physiology, and biomechanics to a variety of exercise/fitness contexts and populations.
Develop and implement safe and effective exercise / fitness programming.
Demonstrate and apply the principles of exercise prescription to diverse populations.
Demonstrate knowledge and process in addressing emergency procedures and individual injury in health and fitness settings.
Evaluate scientific literature in the discipline of exercise / fitness science, synthesize relevant information from it, and convey this information orally and in writing.
Demonstrate the ability for personal growth and development through immersive learning opportunities.
Student Learning Outcomes - Recreation / Fitness
Effectively manage fiscal, physical, and human resources for health fitness/recreational facilities.
Demonstrated leadership techniques and management styles in fitness/recreation administration.
Apply knowledge of fitness/recreation management in a real world setting.
Student Learning Outcomes - Clinical / Wellness
Demonstrate the knowledge of behavioral strategies to enhance fitness and health behavior changes.
Demonstrate scientific principles of physical trainings in sports and rehabilitation settings.
Apply knowledge of exercise and fitness science in a real world setting.
Degree Information
H ED 2202 - Orientation to Health and Wellness
H ED 2212 - First Aid/Responding to Emergencies
H ED 2254 - Human Anatomy and Physiology
H ED 2393 - Nutrition for Health/Sport
H ED 2412 - Drug Education
H ED 4213 - Ethical and Legal Issues in Fitness and Wellness
H ED 4333 - Physiology of Exercise
H ED 4353 - Community Health
H ED 4363 - Kinesiology
H ED 4383 - Care and Prevention of Athletic Injuries
H ED 4403 - Physiology of Aging
H ED 4503 - Instrumentation in Exercise Physiology
Option 1: Clinical/Wellness - 21 hours
H ED 3313 - Psychosocial Aspects of Fitness and Wellness
H ED 4523 - Sports Physiology
H ED 4533 - Cardiopulmonary Rehabilitation
H ED 4563 - Advanced Exercise Prescription
H ED 4583 - Therapeutic Exercise Modalities
P ED 4810 - Practicum (4811, 4812, & 4813)
Option 2: Recreation/Fitness - 21 hours

H ED 4723 - Fitness Facility Management
P ED 4313 - Organization and Administration of PE and Recreation Programs
REC 2222 - Camp Recreation
REC 3212 - Recreational Leadership
REC 3553 - Wilderness First Aid and Risk Management
REC 4212 - Therapeutic Recreation
REC 4500 - Internship in Recreation (4501, 4502, & 4503)
Minor in a second subject area - 18 credit hours
All HHP Majors are expected to participate in a Department capstone experience as a requirement for graduation, and a Professional Development Site (PDS).


See course catalog for full degree plan
ACCELERATED BACHELOR'S TO MASTER'S
The Accelerated Bachelor's to Master's degree pathway (ADP) allows high performing undergraduate students an opportunity to complete the requirements for both the Bachelor's in Health & Human Performance and Master's degree in Health and Sport Science at an accelerated pace.
Undergraduate students accepted for the ADP may apply up to 8 graduate (5000 level) credit hours towards the completion of both the bachelor's and master's degree requirements.
ADP Eligibility
Completed Accelerated Degree Program application.
Minimum of 72 overall credit hours completed and a minimum of 12 hours completed from the Health and Human Performance major
Transfer students must have completed a 12 semester hours at NSU.
A minimum 3.0 cumulative undergraduate GPA, and a minimum 3.25 major GPA.
Complete a Graduate College Admission application. Students will be admitted provisionally. Upon successful completion of the undergraduate degree, students will be eligible for full admission to the graduate college.
IMPORTANT:
Students admitted to the Accelerated B.S. Health and Human Performance: Recreation/Fitness to M.S. Health and Sport Science: Sport Administration/Management degree program will complete up to 9 hours of graduate level credit to apply toward both the undergraduate and graduate degrees.
Students may not receive credit toward both the undergraduate and the paired graduate-level course. A student completing an undergraduate course and the paired graduate-level course will only receive credit for one course toward the bachelor's degree.
Prior to completing the undergraduate degree, if the undergraduate GPA, graduate GPA and/or overall GPA fall below a 3.00, the student becomes ineligible to continue in the ADP.
Students may withdraw from an approved accelerated degree pathway. Graduate credit hours completed prior to the student withdrawing or becoming ineligible to continue in the ADP apply toward the undergraduate degree only.
| | |
| --- | --- |
| B.S. Health and Human Performance: Recreation/Fitness Option | M.S. Health and Sport Science: Sport Administration/Management Option |
| H ED 4213 Ethical and Legal Issues in Fitness and Wellness | H ED 5563 Legal and Ethical Issues in Health Education and Sport |
| H ED 4723 Fitness Facility Management | P ED 5333 Sports Facility Management |
| P ED 4313 Organization and Administration of PE and Recreation Programs | P ED 5373 Sport Administration |
See course catalog for full Accelerated degree plan