NSU Vocal-Choral FAQs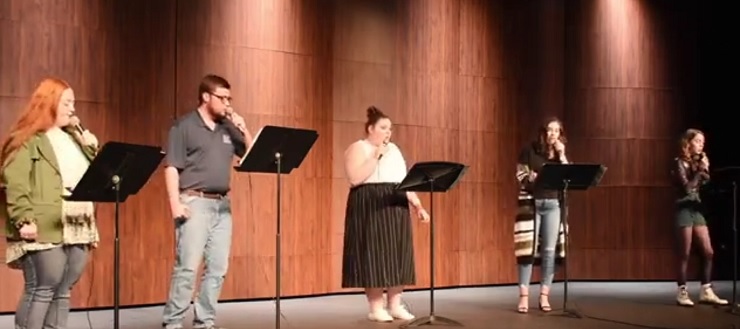 If your question is not answered here, please do not hesitate to contact our vocal/choral faculty.
Yes and No. If you want to be a music major or be considered for a choral/vocal scholarship, then you must audition. Membership in the University Singers and Opera Workshop is by audition only. Membership in the University/Community Chorus does not require an audition.
In any case, you should contact the director of the ensemble in which you are interested in order to get all the necessary information.
There are 2-3 audition days scheduled for each spring. You simply select which day you would like to audition and register online. If you have conflicts with all the priority audition days, please contact Dr. Wall to schedule a private audition.
The simple answer is - we want to hear selections that show off your very best singing. Usually, that is two contrasting pieces, and preferably, one in a foreign language. Many students audition on all-district or all-state solo selections that they sang in high school. If you are having trouble finding a piece or if you have questions about whether your music is appropriate, please contact Dr. Bester.
Typically, we can provide an accompanist to play for you if given notice of your intent to audition. Just bring your sheet music with you.
Membership in one of the NSU choirs or Opera Workshop is open to students of all majors.
Probably not as much as you spent in high school. The Directors of the NSU choral/vocal area ensembles realize that students' time is very precious and do everything to make sure that our scheduled rehearsal time is used efficiently and effectively. However, it is a commitment and we maintain high expectations to ensure quality of instruction and experience. The University/Community Chorus rehearses once weekly on Tuesday evenings. The University Singers and Opera Workshop rehearses twice a week. Due to the limited schedule, attendance requirements are very strict and studetns will need to be responsible for being at rehearsal on time and prepared.
Most choral/vocal scholarships are awarded in the form of Regent Tuition Waiver scholarships. A limited number of Housing Waiver and Foundation scholarships are also available. Scholarships are awarded on the basis of student talent and accomplishment, ensemble need, and director discretion. Any special circumstances or request should be directed to Dr. Wall.
The Harmony Hawks is an officially NSU recognized student organization. It is a student-led, auditioned vocal ensemble, specializing in contemporary music. Phi Mu Alpha Sinfonia is the men's national, professional music fraternity. Membership is open to any male student who is passionate about making music and singing is an important part of the heritage. Our chapter is currently inactive, but we are interested in reviving it with enough interest. The NSU Music Department also sponsors a chapter of the National Association for Music Education (NAfME). This organization is open to any music education major.