Certified Tutor Training Program
Certified Tutor Training Program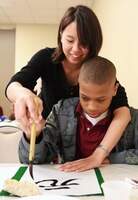 The Northeastern State University/College Reading and Learning Association Tutor Training Program provides three levels of tutor training for Writing and Reading Center tutors.
Global Statement of Learning Objectives:
Tutors will have a review of the College of Reading and Language Association and Northeastern State University's mission, tutoring definitions, ethics, producers, guidelines, and record-keeping information.
Tutor Trainees will learn about the tutoring cycle, the tutoring session, and the importance of student verbalization. Tutors will learn new strategies to encourage student independence by demonstrating and introducing:
New study strategies
Test-taking strategies
Problem-solving tips
Accessing resources
Encouraging student conversation to clarify thinking
Developing critical thinking
Identifying student learning difficulties
Promoting independence through student confidence
What is CRLA?
The College of Reading and Learning Association: Goals - Certification
Northeastern State University philosophy- mission: Reading Center and Writing Center missions
Contact
If you are interested in becoming a tutor, or need more information please contact:
In Broken Arrow:
Monique Brinker, Writing Center Coordinator