Speech Language Pathology M.S.
Speech Language Pathology M.S.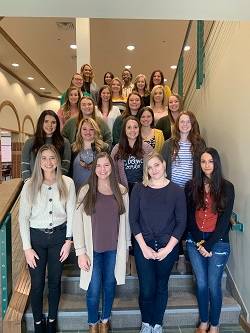 (56 Semester Hours)
Master of Science (M.S.) in Speech-Language Pathology
Accreditation: The Master of Science (M.S.) education program in Speech-Language Pathology at Northeastern State University is accredited by the Council on Academic Accreditation in Audiology and Speech-Language Pathology (CAA) of the American Speech- Language-Hearing Association, 2200 Research Boulevard #310, Rockville, MD 20850, 800-498-2071 or 301-296-5700.

Important details about the NSU SLP Graduate Program.

• All NSU SLP courses are taught by licensed certified speech pathologists. That is very important. Some other programs are taught by individuals who have never practiced speech pathology because they are not speech pathologists.
• The NSU Speech-Language Pathology Program was again one of only two Oklahoma SLP programs named one of the Best Accredited SLP Master's Programs in the United States.
• The NSU SLP Graduate Program offers unique practicum experiences!
During the first year of graduate school:
✓ We have contracts with several public schools to provide the speech therapy services for the school
system. Teams of three SLP graduate students provide the speech therapy services throughout the academic year under the direct supervision of a member of the NSU SLP faculty. Our students gain in-depth experience in all public-school therapy processes including parent meetings and IEP paperwork requirements in EdPlan.
✓ The NSU SLP Program has a speech therapy clinic on each NSU campus: Muskogee, Tahlequah, and
Broken Arrow. Our students gain experience with clients throughout the age spectrum through clinic
experiences.
During the second year of graduate school:
✓ NSU SLP graduate students complete 31 weeks of full-day internships at hospitals, skilled nursing
facilities, private clinics, and the variety of other settings where speech pathologists work.
• The SLP Graduate Program starts in the Summer semester.
This has two primary advantages:
✓ It allows our students to carry a lighter course load during the semesters that they are performing their
practicum.
✓ It allows our students to get some basics in place before practicum begins in the Fall semester.
• The SLP faculty strives to build professionalism in our students. Academic and clinical strength are incredibly important, but these skills must grow and develop within attitudes and behaviors that reflect professional maturity. We are encouraged when our internship and externship sites
report that they greatly prefer students from the NSU SLP Program.
• The SLP Program is a cohort program in that all SLP students travel through the program together – taking the same courses at the same time, following the RoadMap. This has several advantages. The instructors know what coursework each student has already completed, allowing the content of each course to build on the content of the previous courses. Cohorts contribute to the strength of the relationships among the students. Each cohort becomes close knit and strongly supports one another.
• As a cohort program, there are no options to attend part- time. Successful students complete the program in two calendar years through six semesters, including two Summer semesters. Each new cohort in the NSU SLP Graduate Program begins in the Summer semester and graduates at the end of the Spring semester two years later.
•The NSU Speech-Language Pathology courses are taught face-to-face, not online.
• All SLP graduate courses are taught in Muskogee.
• All graduate SLP courses are taught on Mondays and
Wednesdays.
• Practicum opportunities are available Tuesdays, Thursdays, and Fridays.

Courses Offered at NSU Muskogee Campus
2400 West Shawnee St., Muskogee, OK 74401
Phone: 918-444-3775
Fax: 918-458-9605
Email: slp@nsuok.edu
STATE LICENSURE REQUIREMENTS
Completion of the Northeastern State University (NSU) Master of Science (M.S.) Speech-Language Pathology (SLP) degree program does not guarantee employment in the speech-language pathology profession. Students are responsible for confirming all education, certification, and other licensing requirements prior to enrollment as the requirements vary state to state. The NSU SLP graduate degree program is designed to meet the American Speech-Language-Hearing Association (ASHA) certification and accreditation requirements and may not meet licensing requirements for all states. Please check with the appropriate state licensing board where you wish to work for more information regarding accurate, up-to-date requirements.
For contact information for licensing boards, you may reference the ASHA website at https://www.asha.org/advocacy/state/.