Speech Language Pathology
Speech Language Pathology
The requirement for GRE and MAT exams is waived for applicants to the SLP Graduate Program.
You do not need to take any exam this year!
SPEECH AND LANGUAGE PATHOLOGY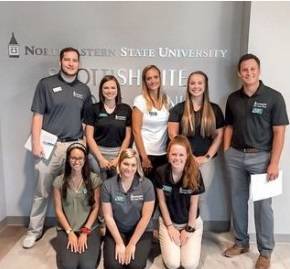 The mission of the Northeastern State University Speech-Language Pathology Program is two-fold:
To provide pre-professional undergraduate education leading to a Bachelor of Science as a prerequisite for admission to a master's degree program in communication disorders
To provide graduate education leading to a Master of Science with the academic and clinical practicum experience necessary to meet requirements for:

The Certificate of Clinical Competence in Speech-Language Pathology from the American Speech-Language-Hearing Association
A license in speech-language pathology from Oklahoma Board of Examiners for Speech Language Pathology and Audiology
The Oklahoma State Department of Education Standard Certificate in Speech-Language Pathology
Degree Programs
Course Offered at NSU Muskogee Campus
2400 West Shawnee St., Muskogee, OK 74401
Phone Number: 918-444-3775
Fax Number: 918-458-9605
What can I do with a major in Speech-Language Pathology?
The Master of Science Program in Speech-Language Pathology at Northeastern State University is accredited by the Council on Academic Accreditation in Audiology and Speech-Language Pathology (CAA) of the American Speech-Language-Hearing Association, 2200 Research Boulevard #310, Rockville, Maryland 20850, 800-498-2071 or 301-296-5700.
State Licensure Requirements
Completion of the Northeastern State University (NSU) Master of Science (M.S.) Speech-Language Pathology (SLP) degree program does not guarantee employment in the speech-language pathology profession. Students are responsible for confirming all education, certification, and other licensing requirements prior to enrollment as the requirements vary state to state. The NSU SLP graduate degree program is designed to meet the American Speech-Language-Hearing Association (ASHA) certification and accreditation requirements and may not meet licensing requirements for all states. Please check with the appropriate state licensing board where you wish to work for more information regarding accurate, up-to-date requirements.
For contact information for licensing boards, you may reference the ASHA website at https://www.asha.org/advocacy/state/.