About the Nursing Program
About the Nursing Program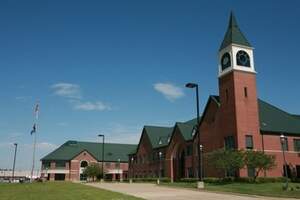 Nursing offers an online upper-division 30 credit hour completion program leading to a Bachelor of Science in Nursing degree. The mission of the program is to provide educational mobility for associate degree and diploma prepared nurses and to provide preparation for graduate education in nursing. The curriculum, designed to build on the students' previous education and experience, prepares nurses for professional nursing practice. Major areas of emphasis include family nursing, community health, leadership, and research. Graduates are prepared to provide primary health care in diverse settings; to provide education to individuals, families, and community groups; and to continue lifelong learning.
The minimum time required to complete the program is 10 months, provided the student meets all other Nursing and University graduation requirements. Students working full-time typically complete the program in 16 months. Students may take a maximum of five years to complete the program after enrolling in nursing courses.
All nursing classes are online and originate from the Muskogee campus. The class schedules address the needs of many RNs who work full-time and attend school part-time. Two courses (NURS 4115 Community Health Nursing and NURS 4294 Professional Nursing Synthesis) contain one credit hour arranged field experiences (64 clock hours). Arranged field experiences are usually scheduled during the weekday and conducted in the general area of the students' residences or employment. Independent nursing studies (1-2 credit hours) are available to address specific interests and elective hour needs.
Northeastern State University is accredited by the Commission on Institutions of Higher Education of the North Central Association of Colleges and Schools, 30 N. LaSalle St., Suite 2400, Chicago, IL 60602-2504, 1 (800) 621-7440; 1 (800) 621-7440. All programs offered by the University are approved by the Oklahoma State Regents for Higher Education and the Regional University System of Oklahoma.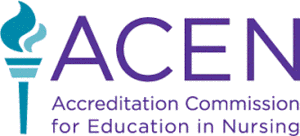 The RN to BSN nursing program at Northeastern State University at the Muskogee campus located in Muskogee, OK is accredited by the: Accreditation Commission for Education in Nursing (ACEN) 3390 Peachtree Road NE, Suite 1400 Atlanta, GA 30326
(404) 975-5000. The most recent accreditation decision made by the ACEN Board of Commissioners for the RN to BSN nursing program is Continuing Accreditation. View the public information disclosed by the ACEN regarding this program.
The tuition costs published in the semester course schedules and/or university catalog are generally less than those of comprehensive state and nearby out-of-state universities. Membership in Zeta Delta Chapter-At-Large of Sigma Theta Tau International, the honor society of nursing, is available to eligible students.
Northeastern State University is strongly committed to excellence in instruction, to appropriate basic and applied research, to educational outreach and service, and to cultural activities that enhance the quality of life in the region and state. The university's mission is to provide undergraduate and graduate education leading to bachelor degrees, master degrees in selected areas, and a doctoral degree in Optometry. The philosophy and objectives of the Nursing Program are in accord with the mission and purposes of the University. The nursing faculty shares beliefs about the person, environment, society, health, nursing, learning, professional nursing education, and professional role development that form the philosophy of the Nursing Program.
The person is viewed as a unique, holistic, individual worthy of respect and dignity. Each person is an interrelated physical, mental, social, and spiritual system. The person is an experiencing and perceiving individual, family, community, or population who interacts with the environment and is the focus of nursing. Each person, during the dynamic process of development, strives for well-being, is responsible for individual health, and exercises the right of choice regarding health needs.
The Environment reflects two interrelated components. First, the internal environment comprises all the dimensions of the person. Second, the external environment, or everything outside the person, comprises multiple dimensions that affect the person. Patterns of interaction between the internal and external environment make each individual, family, and community unique.
Society, the context of nursing, is dynamic and pluralistic. It is made up of persons who live together as families and communities with their own value systems. Society is characterized by diverse groups and populations. Within groups, the family is the fundamental and most significant unit and is self defined. Patterns of interaction within the family affect the health of individuals, families and communities.
Health is a dynamic state of well-being in which the potential of a person is realized to the fullest extent possible. It is a continually evolving and varying process and state. Health is "an experience that is often expressed in terms of wellness and illness, and may occur in the presence or absence of disease or injury" (ANA Scope & Standards of Practice, 2015, p. 88). Persons are active participants in achieving health. The professional nurse is a role model and seeks to empower individuals, families, and communities to accept self-responsibility and accountability for their own well-being.
Nursing: "is the protection, promotion, and optimization of health and abilities, prevention of illness and injury, alleviation of suffering through the diagnosis and treatment of human response, and advocacy in the care of individuals, families, communities, and populations" (Nursing's Social Policy Statement, 2010, p. 8). Central to the practice of professional nursing is the value of altruism reflected by concern for the welfare of persons. Nursing is a scientific discipline validated through research. The art of nursing encompasses caring and partnering with individuals, families, communities and populations as they strive toward meaningful health. Nursing employs the nursing process with persons in their environments. Nursing assists in the mastery of developmental tasks, knowledge, and skills necessary to promote, attain, and maintain health.
Teaching/Learning: Teaching is a reciprocal exchange of knowledge, beliefs, values, attitudes, and skills that promotes lifelong learning. Teaching is the facilitation of mutual learning that requires partnering, sharing experiences, and creating a collaborative educational environment that fosters critical thinking. Learning is the outcome of teaching that can be reflected in cognitive, affective, and psychomotor domains. Teaching/learning seeks to advance growth through experiences that promote a sense of excitement, curiosity, creativity, and discovery.
Professional nursing education: is the integration of liberal, science and nursing concepts and theories to facilitate acquisition and refinement of knowledge, beliefs, values, attitudes, and skills reflected in cognitive, affective, and psychomotor domains. Based on a philosophical foundation of valuing student success and supporting professional role development, the concepts and theories from nursing and related disciplines form the structure of the nursing curriculum. Professional nursing education prepares students to practice as a professional nurse in diverse roles and settings.
Professional role development is evaluated throughout the nursing educational program. The use of theory and research based knowledge in direct and indirect nursing care and in the formation of partnerships is evaluated. Other skills essential to the development of the nurse as manager and coordinator of care include: autonomy, accountability, critical thinking, decision making, collaboration, collegiality, communication, and advocacy. Experiences are designed to provide an understanding of the nurse as a professional, encourage lifelong learning, incorporate professionalism into practice, and identify with the values of the profession.
American Nurses Association. (2015). Nursing: Scope & standards of practice (3rd ed.). Washington, DC: Author.

American Nurses Association. (2010). Nursing's social policy statement: The essence of the profession (3rd ed.). Washington, DC: Author.
This program does not prepared individuals for licensure. As a prerequisite for admission to the RN to BSN Program, applicants must be registered nurses or pending completion of the National Council State Boards of Nursing Licensure Exam (NCLEX-RN). Students who have completed general education courses and the first semester of an associate degree nursing program may be admitted as concurrent nursing students. Those who have completed the first semester of an associate degree nursing program and possess an Associate of Arts, Associate of Science or non-nursing bachelor's degree, may also be admitted as concurrent nursing students.